Video by a friend of mine TerachiShinya
Age at disappearance: 14
Andrew has been missing from Doncaster, South Yorkshire since 14 September 2007. Andrew was seen on CCTV cameras coming through Kings Cross station in London on that day.
Andrew's family are extremely worried and there is concern for his welfare due to to his age. He can call the Runaway Helpline on Freefone 0808 800 7070 for confidential advice and support.
Andrew is 5ft 4ins tall, of slim build with collar length, light brown hair and brown eyes. It is thought Andrew will be wearing black jeans, a black T-shirt and black trainers. Andrew may be carrying with him a black canvas satchel with patches of rock/metal bands on it.
http://www.missingpeople.org.uk/areyoumissing/missing/detail.asp?dsid=617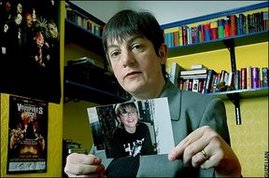 http://www.missingpeople.org.uk/areyoumissing/missingmap/
Please Check this Link for Other Missing Children
Last edited by WhyMadeleine on Sat Jul 12, 2008 7:01 pm; edited 1 time in total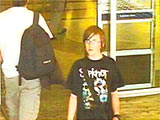 Last confirmed sighting of Andrew at Kings Cross station Missing Andrew
Last updated: 20 November 2007
Find out more about missing teen Andrew Gosden and other missing children here
14-year-old Andrew Gosden went missing from his home in Doncaster four weeks ago.
If you have a sighting or information about Andrew Gosden, please call us confidentially on Freefone 0500 700 700 or email seensomeone@missingpeople.org.uk
The super-bright pupil, who is heading for a string of A* GCSEs, took more than £200 from his bank account and was spotted heading to London on a train.
Get in touch plea
A worried father today appealed to his missing teenage son to get in touch - a month after he vanished. Andrew disappeared on September 14th after failing to turn up at school in Doncaster, South Yorkshire.
There have been various possible sightings of him in areas of the capital, but he has failed to get in contact with family or friends.
His father, Kevin, 41, said: "We still believe he is in London but we have had absolutely no contact with him whatsoever. I spent last weekend in London distributing leaflets and visiting places where he might be.''
"A lot of my family live in London. It's familiar to him. It's a big exciting place. Because we have no clear or proven sightings of him it is very difficult to know where to look.''
However, Mr Gosden said his son seemed happy with his life with no obvious problems.
"The night before he went I spent about an hour-and-a-half playing a game with him and chatting about school. There was nothing to suggest he was unhappy.''
Message to Andrew
Mr Gosden said his message to his son was simple: "Please get in touch. We love you, we care about you desperately. Please let us know you are ok.''
South Yorkshire Police has appealed for help in tracing the youngster, who is a member of a Government programme designed to stretch the top 5% of pupils.
Andrew's mother, Glenys, 43, and sister, Charlotte, 16, have also been down in London trying to chase up the leads and sightings passed on by police.
Andrew, who is 5ft 3in, of slim build with straight brown hair, is believed to be wearing a black top, black jeans, trainers and was carrying a black bag with patches of rock bands on.
Anyone with information as to his whereabouts is asked to contact South Yorkshire Police on 0114 220 2020.
http://www.gm.tv/index.cfm?articleid=27215


Mother of missing Andrew Gosden, speaks about the search for her son, as she hands out missing posters on the streets of London. Also interviewed is CEO of Missing People Paul Tuohy.
Oh, now I know why so many people have watch my video, 'cause you Janet post it here. :) Thank you.

Couple days ago andrew spend her 15th birthday without his family. :(
Noora wrote:Oh, now I know why so many people have watch my video, 'cause you Janet post it here. :) Thank you.

Couple days ago andrew spend her 15th birthday without his family. :(
Hiya Noora
You make some very good video's & Your very welcome xx
Nice to see you posting here too !

---
Permissions in this forum:
You
cannot
reply to topics in this forum