The mother of missing Irish teenager Amy Fitzpatrick has appealed for information on her whereabouts as Spanish detectives continued a massive search close to where she was last seen.
The 15-year-old girl disappeared in Mijas, near Fuengirola, in the Costa del Sol, where she was living with her mother, brother and her mother's partner, on New Year's Day.
The investigating Guardia Civil co-ordinated more than 200 local and national police officers and members of the emergency services involved in the search operation.
Amy's mother, Audrey Fitzpatrick, again urged anyone with any information about her daughter's whereabouts to get in contact with the authorities.
"I just want to say thank you to everybody, all the Press, all the police," she said.
"I'd just appeal to everybody, especially down in Spain, all the British community, anybody that knows anything, if they can remember anything - even if it's something stupid, something small, something they think they might have seen - just to ring up any time day or night."
The huge search centred on a dirt track believed to have been used by Amy as a shortcut to her home from a friend's house where she had been baby-sitting on New Year's Eve.
Mapping specialists were brought in from the Spanish capital Madrid while sniffer dogs from the Guardia Civil's mountain rescue unit and two helicopters were also involved.
Clothing has been found close to the dirt track but Amy's family said that nothing recovered so far in ongoing searches belonged to the missing teenager.
Amy, described as as shy and quiet by her mother Audrey, was formally reported missing last Thursday morning, 36 hours after she failed to return home.
She lived in Donaghmede on Dublin's north side before moving to Spain with her mother three years ago.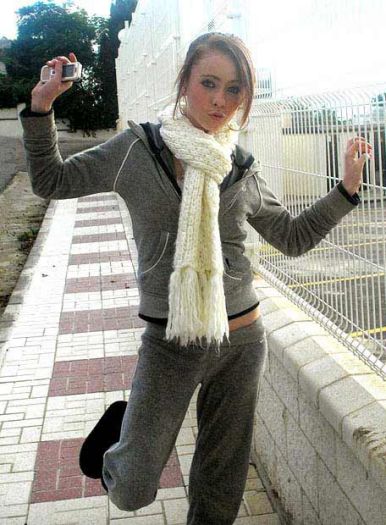 Last edited by WhyMadeleine on Sat Jul 12, 2008 7:03 pm; edited 3 times in total
Her mother Audrey said she was optimistic of finding her daughter alive.
Audrey Fitzpatrick, the mother of the 15 year old Irish girl who vanished from Mijas Costa on January 1 this year, said on Tuesday this week that she was optimistic of finding her daughter alive.
Speaking to the EFE news agency she said that at first the family and the police thought that she had run away, given that she was a teenager living in a place that she did not like, but now that possibility has passed.
Speaking on the six month anniversary of her daughter's disappearance, Audrey made a fresh call to the media and the authorities to not forget the case and to keep posters and photos on display so that people visiting on holiday could see them.
http://www.typicallyspanish.com/news/publish/article_17219.shtml
THE family of a Coolock girl who disappeared in Spain at the start of the year is campaigning for a European alert system for missing children.
Amy Fitzpatrick (16), from Coolock, went missing in Mijas, Spain, on January 1, while walking home from her friend's house and hasn't been seen since.
Up until last week, the family had gathered over 11,000 signatures - including those of a number of Irish MEPs – for their online and paper petitions.
And now Northside People readers are also being asked to sign the petition.
Amy's aunt, Christine Kenny, from Donaghmede, has been running a tireless campaign not just to find her niece, but also to have Europe-wide missing persons alert system put in place.
Christine believes this could help prevent similar cases.
"I believe children are precious and we need to protect them," she told Northside People.
"I don't want any parents to have to experience the heartache that my brother (Amy's father) is going through.
"Amy is a lovely child and all we can hope for is that she is returned to us safe and well.
"We are doing everything we can to find her but it's devastating."
Christine's petition is calling for the creation of a new alert system that would immediately inform police across Europe of all missing children along with a dedicated base to co-ordinate searches.
The petition has the backing of an Irish missing persons group called Missing in Ireland Support Service (MISS).
Christine has travelled to Spain, Portugal and the UK since Amy went missing, trying to find people who can help.
"I have even met Gerry McCann (father of Madeline McCann) who was very supportive," she stated.
"I fund everything myself and would gladly sell my own possessions to continue the search.
"I would appreciate any help I can get though. If people want to sign the petition online or print them out, that would be great."
The petition is calling for the creation of a system similar to the North American Amber Alert Program, a voluntary partnership between law-enforcement agencies, broadcasters, and transportation agencies to activate an urgent bulletin in the most serious child abduction cases.
American broadcasters use an Emergency Alert System, originally designed to warn about nuclear attacks, to air a description of the abducted child and suspected abductor.
from p.1.
Christine believes a similar system in Europe could use television, mobile phones and the internet.
"I won't sit back any longer," she declared.
"I kicked off this campaign in March and got 1,000 signatures on the first day."
Christine believes that it takes too long for the police to contact their counterparts in other countries and is concerned that valuable time would be lost as a result.
"We want to have direct contact and co-operation," she said.
"We are asking all parents, grandparents, extended family, friends and their children to sign our petition.
"It only takes a couple of seconds and we hope it will make the European Parliament listen.
"We are looking for volunteers in Ireland and Europe to help get signatures for the petition and get this alert system put into place."
Anyone interested in signing this petition is advised to email Christine at
info@amyfitzpatrickmissing.comThis
e-mail address is being protected from spam bots, you need JavaScript enabled to view it
Meanwhile, Christine has also resorted to more unconventional means in her search for Amy, enlisting the help of a British psychic who claims to have experience in finding missing children.
He has travelled to Spain twice with Christine to help in the search.
"I won't leave any stone unturned in my attempt to find Amy," stated Christine.
"If he can help with that then so be it."
"Another woman has also been helping us with the search; she has special abilities to deal with cases like this.
"I don't know if it will work but I am willing to try anything really.
"I just want whoever has Amy to please God let her come home to her family," added Christine.
Amy was living in Spain for three years with her mother, Audrey Fitzpatrick, before she went missing.
Audrey has been working with the spokesman for Madeleine McCann's family, Clarence Mitchell, to raise awareness of the case and briefly returned to Ireland last week to appeal for further information.
http://www.dublinpeople.com/content/view/702/57/
Last edited by WhyMadeleine on Sat Jul 12, 2008 9:15 am; edited 1 time in total
The mother of missing teenager Amy Fitzpatrick had a "very encouraging" meeting in Dublin with the spokesman for the parents of Madeleine McCann.
Audrey Fitzpatrick (40) and her partner Dave Mahon met with former BBC reporter Clarence Mitchell at the Westbury Hotel to seek new ways of raising awareness about the search for Amy.
Clarence Mitchell works full-time as spokesman for Kate and Gerry McCann whose little daughter Madeleine was abducted from their holiday apartment in Spain.
Dubliner Amy Fitzpatrick disappeared in Spain on the night of January 1 last while walking to her home in Calahonda from a friend's house on the Costa del Sol.
"We had a very encouraging meeting with Clarence. He flew into Dublin just to meet us and flew back to England a few hours later," Audrey told the Herald today.
"When Clarence appeared on the Late Late Show a while ago, a lot of people were telling him about Amy so he left his number for us to contact him," said Audrey.
"He offered to come over to meet us. It was very good meeting him. He has offered us real help in getting Amy into the British media," she said.
"He was confident he will be able to get Amy's story on the BBC and on Sky and on GMTV too," she said.
"He is doing this just because he wants to help find Amy. We're very grateful to him. We have been trying for a long time to get the British media interested in the search for Amy," she added.
Audrey and her family have been anxious to alert the 200,000 British people living on the Costa del Sol about Amy's disappearance. The British ex-pats mainly use British television channels and British newspapers.
Audrey and her partner are in Dublin for a few days before they return to their home in Spain
http://www.herald.ie/national-news/maddie-spokesman-says-hell-help-find--missing-teen-amy-1416390.html
This video was made by Amy's dad himself. If anyone knows where Amy is, or they think they may have seen her, please contact him, this is a family in great pain and they need our help.

Amy, if by chance you read this, your family need to know that you are alright, just a phone call could end their suffering, please call them, they love you.

Don't leave them like this Amy

Rosie

Admin





Number of posts

: 4358


Registration date :

2008-04-27



Saturday, July 12, 2008
THE FAMILY of missing teenager Amy Fitzpatrick has presented a petition of 20,000 signatures to the EU Commission office in Dublin calling for the introduction of a system that would alert all EU states when children go missing.
The missing teenager's aunt, Christine Kenny, said if a US-style amber alert system was put in place it might lead to child abduction cases being solved when children were being moved across EU borders by their abductors.
She believed the signatures collected in Ireland and across the world reflected support for the introduction of such an alert system. "I would urge parents and grandparents to think what they would do if it was their child missing. There is nothing there for you."
She said her family had heard nothing from Amy since her disappearance in Spain almost seven months ago. However, they were heartened by the fact nothing had emerged to suggest she was dead.
"I'm very hopeful we will find her. There's no evidence [that Amy is dead], no clothing found. There's always hope."
Ms Kenny was speaking at the EU Commission's offices on Dawson St, Dublin, after presenting the petition to officials.
Amy (15) disappeared after leaving a friend's house at about 10pm on January 1st to walk to her home in Riviera del Sol, Mijas. She had been living in Spain with her mother and her mother's partner.
A police search in Spain has failed to uncover any information as to her whereabouts.
Ms Kenny said the alert system would involve the rapid sharing of information, including photographs, about missing children.
This would enable police forces, transport companies and other agencies to be vigilant, particularly in the first two to three days after abduction when a child may be smuggled to another country.
Mary Lou McDonald MEP (SF), who was with Ms Kenny at the petition presentation, said commitments made by EU heads of state to implement an integrated alert system have yet to come to fruition.
"I urge Nicolas Sarkozy to prioritise the delivery of this system during the current French presidency of the union and all EU leaders to support such efforts," she said.
Former taoiseach Bertie Ahern met Amy's mother, Audrey Fitzpatrick, in March to discuss the case. However, Christine Kenny - who is Amy's father's sister - revealed her side of the family was dissatisfied with the response of the Government.
She had sent requests to a number of Ministers seeking meetings but apart from acknowledgments the family had received no response.
A spokesman for Minister for Justice Dermot Ahern said he would meet Ms Kenny and other family members to discuss the case.
© 2008 The Irish Times
http://www.irishtimes.com/newspaper/ireland/2008/0712/1215787858110.html
Why madeleine again you come up with loads of info on missing children etc...well done keep up the good work.Its good to see people out there trying hard like you do...sooo many people ignore these missing kids and may even be passing by them daily.I have read a little about this girl..not too much but am aware shes been missing for some time now...sad world out there isn't it.
These kids have to be somewhere they cannot just disapear off the face of the earth....its impossible.

with all the national days we have have such as non smoking day,pancake day,mothers day fathers day etc etc.........i think it would be a good idea to have a look for a missing child day or awareness day maybe....might sound a little bizarre but i think if every single person could take just a few seconds to look around them at the same time some of the missing in our world would be spotted and maybe found safe and well.

I think there is a national missing persons day actually here in the uk but im not sure of the details..maybe this should be upgraded to a international missing persons day..... people should made well aware of it and tv should use this day to show pictures of these missing people.

clairesy

Grand Member





Number of posts

: 2698


Age

: 32


Location

: uk


Registration date :

2008-06-04



---
Permissions in this forum:
You
cannot
reply to topics in this forum