KATE MCCANN'S POIGNANT TRIP TO PORTUGAL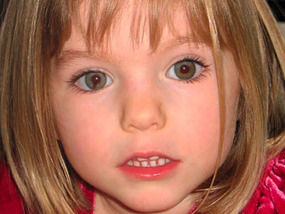 Sunday May 1,2011
By James Murray
KATE McCANN has returned from another poignant solo trip to Portugal on the eve of the fourth anniversary of her daughter Madeleine's kidnap.
She made the journey partly to meet friends and supporters but also to say prayers for Madeleine ahead of Tuesday's anniversary.
For the past five months she has spent every waking hour working on her book about the seemingly unsolvable crime in the hope that readers worldwide will produce the vital clue which has so far eluded detectives.
Two weeks ago she put the finishing touches to the book, called simply Madeleine, and then flew to Portugal. The 42-year-old former GP has worried friends by her relentless work in recent months and has lost weight, partly due to her fitness regime and partly through having to recall all the painful details of the abduction.
A stalwart friend who has helped her deal with the pressures has been Fiona Payne, who was with the family on their ill-fated holiday.
Kate's husband Gerry, also 42, has been a constant support, but in recent months has been taking more of a back seat in the campaign to find out who snatched Madeleine from a holiday apartment in Praia da Luz on the Algarve on May 3, 2007.
A source said: "Gerry is immensely proud of the way Kate has worked so hard for so long. He is exceptionally busy with his job as a heart expert at a local hospital and as he is the sole breadwinner it is vital he keeps his job. Kate has been going through emotional hell as she pours out all the hurt and anger of the past four years on page after page.
"Although she is softly spoken and quiet by nature I think she has found a vehicle to express her anger and frustration at all the things that went wrong in the investigation.
"Only a small group of people have seen the book and Gerry has told his friends that it is very much Kate's project and that he is proud of the way she has knuckled down to the task.
"Kate has made several solo trips to Portugal this year. There are legal meetings but her priority is to make sure her book gets a fair hearing when it is published there in mid-May.
"Although it is possible the breakthrough may come from a British person reading the book, it is far more likely that someone in Portugal who picks up a copy may come forward with the missing piece of the jigsaw."
It is expected Kate will launch the book in London on May 12, Madeleine's eighth birthday, and will again travel to Portugal the following week. She and Gerry and their six-year-old twins Sean and Amelie will mark Tuesday's anniversary quietly at their home in Rothley, Leicestershire.

_________________
Madeleine [Hardcover] Book
Written by Kate (Author)
Pre Order your copy
http://www.amazon.co.uk/Madeleine-Kate-McCann-Gerry/dp/0593067916/ref=sr_1_3?s=books&ie=UTF8&qid=1289936443&sr=1-3

Sign the petition http://www.ipetitions.com/petition/madeleinemccann_case_review/signatures

christabel

Admin





Number of posts

: 1637


Age

: 68


Location

: OK


Registration date :

2008-04-26



Mrs. Kate McCann, a woman full of courage and strength, well done Mrs. McCann.


Pedro Silva

Grand Member





Number of posts

: 5576


Location

: Portugal


Registration date :

2008-10-20



Absolutely Pedro, full credit to Kate and her network of support.

_________________
'The motives of those who have tried to convince the world that Madeleine is dead, and who've disgracefully and falsely tried to implicate us in her disappearance, need to be seriously questioned.'

Tinkerbell43

Admin





Number of posts

: 1473


Age

: 53


Registration date :

2008-04-18



Yes Tinkerbell, I agree with you my friend.

Pedro Silva

Grand Member





Number of posts

: 5576


Location

: Portugal


Registration date :

2008-10-20



Kate will never stop looking for her beloved Madeleine. And yes she has courage, strength and determination, but mostly she has a mother's love for her first born daughter.

In her search for Madeleine, Kate is a tiger mum.

dianeh

Grand Member





Number of posts

: 3465


Age

: 53


Location

: Outback, Australia


Registration date :

2008-04-27



Oh yes, I agree with you dianeh, we are also right here supporting, doing our best to help, for as long as it takes.

Pedro Silva

Grand Member





Number of posts

: 5576


Location

: Portugal


Registration date :

2008-10-20




---
Permissions in this forum:
You
cannot
reply to topics in this forum