This is just evidence that proofs they don't want Madeleine to be found.
How sick is that?
On the video you can see Gerry mentions the phonenumber, but he got the last two figures wrong: 24
Kate makes it right: It is 28 and Gerry is a bit confused, so Kate repeats the whole phonenumber.
Gerry says: Thank you!
Here you see the right number:
http://tiny.cc/HMHGt

Last night I read the original transcript of the video, with Kate mentioning 28 and repeating the whole phonenumber,
today it was changed by Morais:
Gerry McCann
:
There is one real reason why we've come here and why we've taken this action and this why it is [indicates the poster] it's our daughter who is missing, and who deserves justice for a fair search. The laws of a democracy are there to protect the vulnerable in society, our daughter is vulnerable, our twins are vulnerable. Given what you've heard in court over the days of this trial, we want to appeal to the Portuguese people again, to come forward with any information that may lead us to help find Madeleine, or any other information that might be related to Madeleine's abduction.
The number here is 800 814 024.
[some journalist asks something to Kate McCann] Pardon.Kate McCann: [unintelligible]

Gerry: Thank you
The owner of the blog http://mccannexposure.wordpress.com has the Morais copy of the transcript and shows a video with a Disclaimer in it....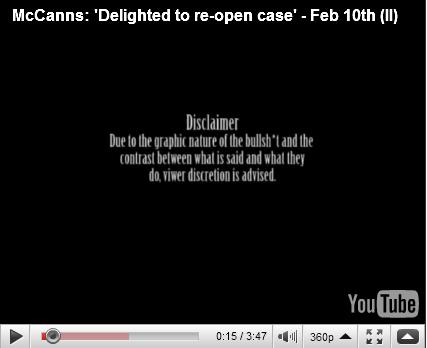 Desperate people...
One day Chicane, they will be proven wrong about this case, you watch them scarper back to their gutters, but what they fail to realise is, their identities are known to many.
They can run, but they sure as hell wont hide.
I am sure that once this case is over, the anti's will be known throughout the world, named and shamed.
Let's see how brave they feel then.

Peaceful1

Grand Member





Number of posts

: 1104


Location

: Australia


Registration date :

2009-07-18



Chicane, thanks for pointing this out. It's good to remember exactly how pathetic they are and how desperate they are for the chance to spin absolutely everything.

They use the exact same cycle to propagate lies, rumors and innuendos as fact as Fox News and celebrity websites.
They report something as rumor in the morning and have their "news site" - Morais - report it as news in the afternoon, failing to mention it's "news" they created and spread.

bluj1515

Grand Member





Number of posts

: 1017


Location

: United States


Registration date :

2009-06-30




Pedro Silva

Grand Member





Number of posts

: 5577


Location

: Portugal


Registration date :

2008-10-20




---
Permissions in this forum:
You
cannot
reply to topics in this forum