They may come from across the continent, but they are usually localized. It always happened to a friend of a friend, who when called will admit that, well, actually it happened to the friend of another friend. But it's definitely true.
Like the one about the kid at the Price Club. A mother shopping with her child suddenly realizes her baby has been taken. The store is immediately sealed. Security guards search for the child while shoppers stand by. Soon child and abductor are tracked down in the men's room, where the child's blond hair has been dyed brown and cut short. The child's clothes have been replaced with a completely different outfit.
Then, of course, comes the final, blood-chilling sentence: Only five minutes had gone by since the mother noticed her child was missing.
As a parent I feel I should report to you two Sickening Attempts of Child Abduction, that happened just last week ...
The first was a family day out at Chester Zoo, the alarm was raised immediately and all the gates were locked. Within minutes the child was found in the toilets, her hair had been cut & dyed and she was already in a change of clothes.
The second incident happened at the Trafford Centre, the same mode of operation.
Why was this not in the News ?
Why are we not being Warned about the Seriousness of this Problem ?
Do you Still think this is an urban legend ?
Please be vigilant and keep your children close to you.
Posted by Dont Let Them Hurt Our Children at Monday, June 02, 2008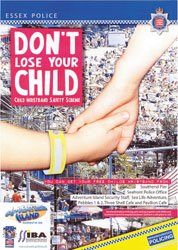 Why isnt this in the news?

This is so important, it should be made known. Additionally, all organisations should be encouraged to have an emergency plan to activate, if a parent reports a child missing. As can be seen from your examples, there are only minutes to find them before they are gone forever.

What is this world coming to where there are obviously professional child abductors at work? The penalty for attempted abduction needs to be increased to match that of child murder. The devastation that an abduction causes is tremendous, one just needs to look at the families that have had their children abducted to see how terrible it is. The lives of the children, their siblings and their parents are ruined and so much is taken away from them. The abductors are animals and need to be treated as such.

dianeh

Grand Member





Number of posts

: 3465


Age

: 54


Location

: Outback, Australia


Registration date :

2008-04-27



I have read this story before, but it took place in a department store in Spain, I believe.

The point is no less poignant however.

Attempted child abductions rarely make the news. :x :x :x
It was in the papers here too. There is a big shopping centre nearby and the same story was reported there.
...the story being a hoax, but I did not want to say it outright. Certainly the version I heard, took place in Spain. I do distinctly remember it being in a Corte Anglaise department store (?spelling) as it is a store I always like to pop into when I am in Spain.

I wonder if the story is an out and out hoax, or whether it actually happened at one point in time, but has become the subject of Chinese whispers and got somewhat out of hand?
This story is NOT a Hoax :evil:
This actually happenened last week !
Shall I post the Mothers details ?
and maybe the childs Picture ?
No : They Have been through enough :(
Beleive what you want :pale:

To those of you with children, Please remain Vigilant.
I can put my hand on my heart and honestly repeat that I have heard this story before. It is not the sort of story one is likely to forget in a hurry.
Is it possibly some sort of copycat incident? :?: :?: :?:
Regards Chinadoll

I too have heard of this before , but sadly some are still blinded by this "urban legend"
My Parents live in spain, and they told it me maybe last year, and about more scams that are happening around them.
The Incedent at Chester Zoo happened only last week *Fact* and it was the police themselves that told the devasted mother about the Related incident at the Trafford Centre.
I am Not prepared to Give out any personal details in the hope that someone beleives me
I scoured the news too to no avail.. Why ? I dont know I think its Disgusting ....
I posted every attempted abduction I came across, Sadly I had not heard of any of these, one in fact was a few miles from my home :pale:
The school holidays are nearly over here, but the Summer ones are vast approaching ...
I felt Compelled to Share this "Story" on my Blog and other Sites ..
Janet
x
,
Is there nothing in the local papers about it? Surely those involved have been remanded in custody.

I can understand the childs name and that of the family being protected, but not the accused. It really is mind bloggling. :silent: :silent: :silent:

---
Permissions in this forum:
You
cannot
reply to topics in this forum