I just spotted this while doing a search about Madeleine.
I think it is worth putting on our site, just to remind us why we cant stop looking for her.
The police believe that Daniel has drowned but there is no evidence of that, since his body was never found. But apparently there were cctv cameras around and none of them show him leaving the wharf area. So I can understand how the police have reached their conclusion.
Unless Daniel is alive and is one day found, his parents will never have any resolution, they will never know what happened to their little boy. It just isnt right, it isnt fair. My heart breaks for them. And I am resolved to stay with the McCanns while they search for Madeleine. We wont forget her. When I read that we forgot Daniel, I am ashamed. He shouldnt be forgotten, we need to remember him as well. How about a thread for other missing children, where we can keep news of them, and a link to a missing children's site.
http://www.timesonline.co.uk/tol/news/uk/crime/article3864458.ece
This is Daniel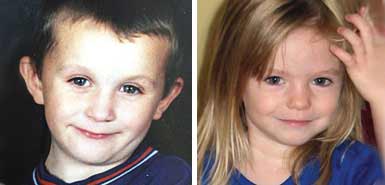 dianeh

Grand Member





Number of posts

: 3465


Age

: 53


Location

: Outback, Australia


Registration date :

2008-04-27



Diane, wasn't this the little boy that vanished in Great Yarmouth a couple of years ago? I remember that well. He went off from home on his bike to the walled banks of the Yare estuary, with strong tidal currents. They found only his bicycle. Personally I feel pretty sure he fell in as there was a tempting sea wall to walk along and little boys are very adventurous. If this is so, he will never be found. I feel this case is much more 'closed' than Madeleine's as the cause of his disappearance was so obvious. But of course there is always a tiny hope ... especially for parents who always hope against all odds.

tulip

Learner





Number of posts

: 103


Location

: UK


Registration date :

2008-05-09



Poor Daniel and his family. Before Madeleine was abducted I very rarely thought of missing children. Since then I have had my eyes opened in more ways than one as of the dangers that can be anywhere at any time. Last year on holiday I read about a journalist from England who went to prison undercover to find out about paedophiles. I don't know the make of these cars but it's the ones that have sliding doors and can carry four or five passengers. The prisoner told the journalist that cars with sliding doors are far better as they can get a child in much quicker. I remember reading that and feeling quite sick. Something's got to be done it's way out of hand, the offenders should be dealt sentences to fit the crime committed, sad to think that the some, of high authority could be offenders themselves. :twisted:

kateno.51

Rookie





Number of posts

: 62


Location

: lanarkshire glasgow scotland


Registration date :

2008-05-23



This is the BBC news article 5 days after Daniel disappeared (he also disappeared on 3 May).
____________________________________________________________________________________________

Grandfather in Daniel appeal

Daniel has been missing for five days
The grandfather of missing seven-year-old Daniel Entwistle has made a fresh plea for help in finding his grandson.

Keith Button, the father of Daniel's mother Paula, urged visitors to the boy's home town of Great Yarmouth to check photographs and video pictures they may have taken since last Saturday.

Daniel disappeared at about 1700 BST on Saturday.

His bicycle was later found by a river in the town.

Mr Dutton told a news conference on Thursday: "Although I'm Daniel's granddad, I am also Paula's dad.

"And basically I am seeing her go through hell."

He asked people to double check pictures they had taken in Great Yarmouth, in the hope they may have caught an image of Daniel.

"If you have been taking photos, could you please look through them and compare them with photos of Daniel?

"If you think there is the leanest, slightest chance that you might have caught an image of Daniel, please contact the police.

"You are not wasting their time."

Daniel's father David, 41, told the news conference: "He's our little boy and we just want him back.

"I have just got to be strong for Paula because she's not well at the moment and she's going through hell."

'Send him back'

He said the possibility that their "special little boy" was still out there and alive that was keeping them going.

"If somebody is actually holding Daniel just send him back.

"If you want to take him to a local police station in the country please by any means do that, just take him there and leave him there."

He praised the help from his local community and the support from the public.

Mr Entwistle said Daniel was not the type to run away. He said his son suffered from Attention Deficit Hyperactivity Disorder but he would not voluntarily have gone off with a stranger.

Police divers have used sonar equipment to search the River Yare, but Mr Entwhistle said that Daniel did not like water.

"If he had gone into water it's a complete tragedy; he could not swim at all."

Detective Superintendent Julian Gregory, who is leading the hunt, said on Thursday: "We certainly have no plans to scale down our resources.

"We will start to think about that when we have exhausted everything we can do."

He added: "The longer he is away the more we are worried. But there is still hope."
My thoughts and prayers go to Daniel and his family.

I have read about this tragic case and watched tv footage on same.

The consensus did seem to lean towards death by drowning, but the thought of the family never actually knowing, never having closure is the stuff of nightmares.

I understand that Daniels family have much empathy for the McCanns and one can understand why - they clearly know the pain and suffering they are enduring.
Just a quick Hello Chinadoll and to say 'I am still around and keeping an eye on things!'
Thanks for all your support past and present. Love, Alroy. X

Royal

Star Poster





Number of posts

: 858


Location

: Manchester


Registration date :

2008-08-09



Royal wrote:Just a quick Hello Chinadoll and to say 'I am still around and keeping an eye on things!'
Thanks for all your support past and present. Love, Alroy. X
Thank you Alroy and lovely to see you again. Your support has always been appreciated too. Hope you and yours are well.
:sendingulove: :sendingulove: :sendingulove:

---
Permissions in this forum:
You
cannot
reply to topics in this forum